Destin 2L'événement saisonnier "Solstice" d'été approche à grands pas, et avant la célébration du butin de cette année Bungie a présenté de grands changements. Quelques-uns d'entre eux que j'aime. D'autres pas tellement. La preuve en sera dans la façon dont la mouture globale de l'événement est équilibrée, mais pour l'instant je suis intrigué d'une manière que je n'ai pas été depuis des années.
Dans les temps passést, le Destin 2 Solstice n'était qu'un grindfest trop familier en proie à des rides ennuyeuses. Bungie essaie de faire bouger les choses cette fois-ciet voici comment. Comme précédemment taquiné, les festivités du Solstice seront désormais organisées autour d'une seule carte d'événement pour faciliter le suivi de tout. Comme l'onglet des défis hebdomadaires actuels, il vous aidera à rester au top de tous vos objectifs à long terme. Il est également monétisé.
Tout au long de l'événement Solstice, vous gagnerez des billets, et si vous payez 10 $ pour débloquer le niveau premium de la carte d'événement, vous pouvez commencer à échanger ces billets contre de nouvelles récompenses exclusives. Certains produits cosmétiques Solstice seront également vendus via la boutique de microtransaction Eververse habituelle, mais d'autres seront verrouillés derrière la carte d'événement. Ceci est censé faire économiser de l'argent aux joueurs, le total des récompenses pouvant être gagnées dépassant 30 $ en valeur s'ils étaient vendus dans la boutique. C'est effectivement un nouveau mini abonnement de saison.
Mais la vraie viande de Solstice est l'armure, et les changements y sont beaucoup plus intrigants. Il existe une nouvelle économie monétaire élaborée et tout est axé sur la mise à niveau de l'équipement afin que vous puissiez le relancer pour obtenir des statistiques personnalisées plus élevées. C'est extrêmement déroutant et aussi incroyablement sur la marque pour Destin 2. Voici comment Bungie le décompose :
Gagnez de l'allumage en terminant les défis de l'événement du solstice
Dépensez Kindling pour améliorer votre potentiel de jet de statistiques d'armure
Gagnez des feuilles d'argent en accomplissant des activités tout au long du jeu
Transformez Silver Leaves en Silver Ash en accomplissant la nouvelle activité : Bonfire Bash
Dépensez Silver Ash pour relancer les statistiques d'armure à partir de l'écran du mod d'armure
G / O Media peut toucher une commission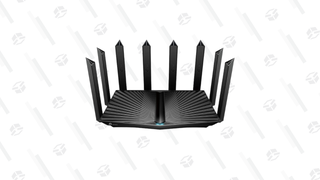 10% Off
TP-Link AX6600 WiFi 6 Router
WiFi everywhere
Capable of 4804 Mbps 5 GHz connections, covers a far larger range thanks to the eight high-gain antennas, uses WPA3 for improved encryption and security, and can actually be upgraded further with certain routers to create a mesh network for even better coverage.
There are three upgrade tiers for armor. Every time a new tier is unlocked, it applies to every piece of that armor. Once you unlock all tiers, you can start choosing which stats to maximize when re-rolling (the armor will also start to glow, though the best glows will still be locked behind a microtransaction). The idea is to let you chase armor with a certain build in mind, whether for Trials, Grandmaster Nightfalls, or any other end-game activity. It sounds great, in theory at least.
In practice there are some ways it could really suck. The most obvious way is if this new system runs into bottlenecks and makes it hard to go at your own pace. There is effectively no reason to reroll armor before you've maxed out the upgrades, but those upgrades are predicated on completing Event Card Challenges, leading to the possibility you reach the cap on Leaves or Ash before you can do anything meaningful with them. Hopefully that doesn't happen, and hopefully the activities are generous in awarding the new currencies.
I say hopefully because I'm actually looking forward to Solstice this year. It's been a while since the last time I wrote about Destiny 2. Things are a bit love/hate right now, which is saying something considering Bungie's loot shooter has been inspiring mixed emotions for almost eight years. Saison des Hantés a été une vraie déception pour moi jusqu'à présent, surtout après le haut qui était La reine sorcière.
Traditionnellement j'ai épuisé très rapidement lors de l'événement annuel du solstice, mais après quelques pauses plus longues que d'habitude cette année, je suis honnêtement impatient de m'y remettre et d'avoir quelque chose à faire en plus d'une autre course redoutée à travers Nightmare Containment. Le calendrier des sorties estivales est stérile (à quelques exceptions notables près) et j'ai besoin de quelque chose pour combler les lacunes. J'ai aussi désespérément besoin de plus de fraîcheur. Broyer trois devises différentes et un autre laissez-passer payé pour maximiser les récompenses peut ne pas sembler comme ça, mais quand Destin fait bien les choses, que peut être un pur bonheur.